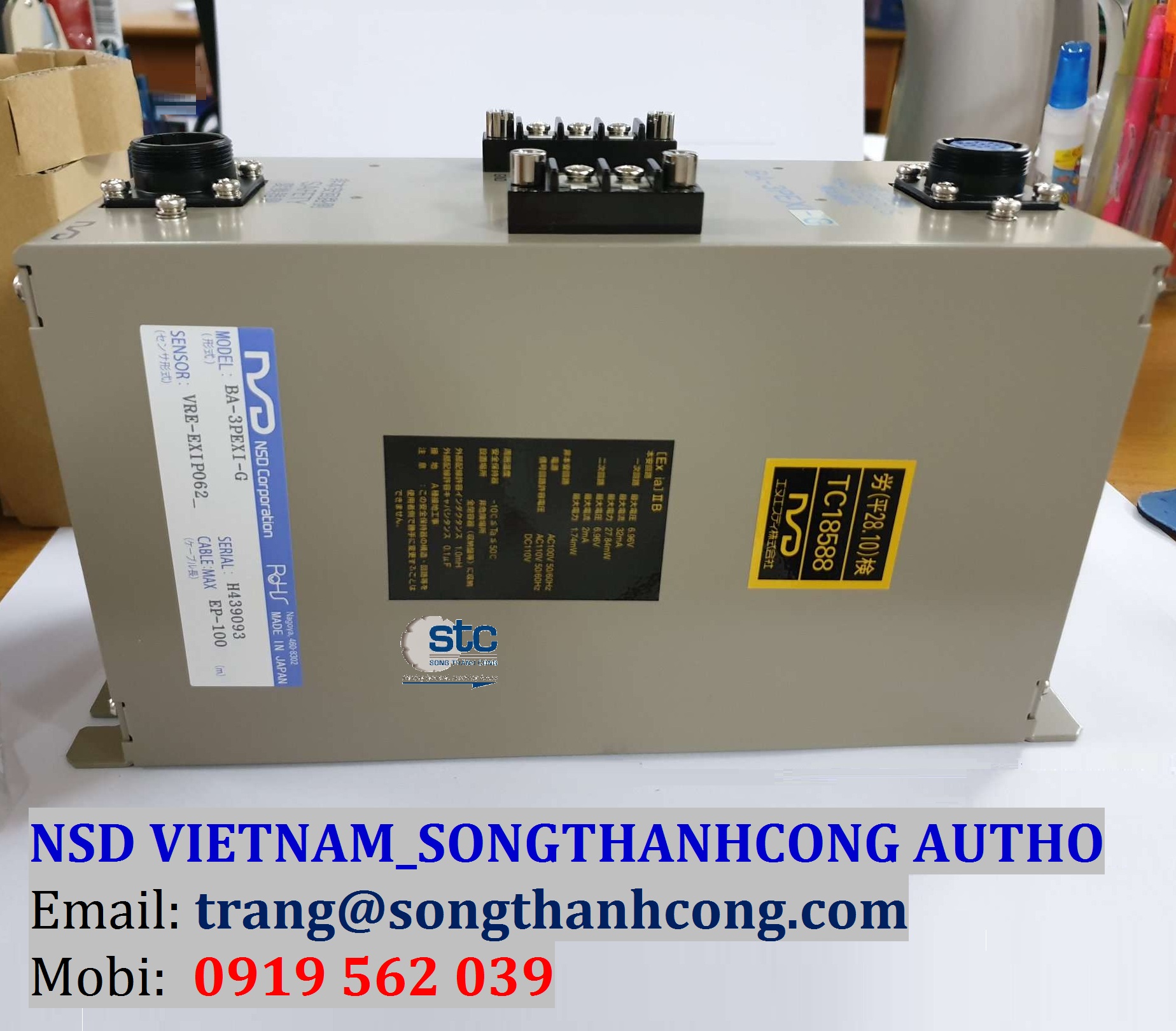 Thiết bị chống cháy nổ - NSD
Xuất sứ: Japan
Nhà cung cấp: NSD Group
Hãng sản xuất: NSD Corp
Ứng dụng sản phẩm: Ngành Bánh Kẹo, Ngành Thép, Ngành Xi Măng
Liên hệ tư vấn

Ms Trang

trang@songthanhcong.com

01678.001.207

ngoctrang.199
NSD GROUP - Sản Phẩm Được Phân Phối Độc Quyền Bởi
SONG THÀNH CÔNG
System Configuration
List of products
Absocoder Sensor
Extension sensor cable
Safety barrier
Converter connection cable
Controller model

Single-turn type
VRE-EXIP028SAB

4P-EP-5152-(Max.100m)
(Robotic cable)

BA-3PEXI-G
No.TC18587 *1

4P-S-0140-(Max.5m)

NCV-20NBNVP-EXI
Converter Output=Binary code
NCV-20NGNVP-EXI
Converter Output=Gray code
4P-EP-S-6465-(Max.200m)
(Standard cable)
VS-6E-EXI
VARICAM Output=Switch

Single-turn type
VRE-EXIP062□□B

4P-EP-5152-(Max.100m)
(Robotic cable)

BA-3PEXI-G
No.TC18588 *1

VS-1AN-1-EXI-V1PG
VARIANALG Output=Analog voltage
4P-EP-S-6465-(Max.200m)
(Standard cable)
NPG-10NAAVP-EXI
ABSO PULPUL Output=A/B/Z phase pilse

Single-turn type
VRE-EXI10TP058MSB

4P-EP-5152-(Max.100m)
(Robotic cable)

BA-3PEXI-VT
No.TC20269

4P-S-0140-(Max.5m)

NPG-10NAAVT-EXI
ABSO PULPUL Output=A/B phase pilse
4P-EP-S-6465-(Max.200m)
(Standard cable)

Multi-turn type
MRE-EXI32SP061□□B

4P-EP-5152-(Max.60m)
(Robotic cable)

BA-4PEXI-MR
No.TC18761 *1

4P-S-0140-(Max.5m)

NCV-20NBNMR-EXI
Converter Output=Binary code

NCV-20NGNMR-EXI
Converter Output=Gray code
4P-EP-S-6465-(Max.100m)
(Standard cable)
VM-2CC-EXI (CC-Link)
Network Converter Output=Binary code

Multi-turn type
MRE-EXIG□SP061F□B

4P-EP-5152-(Max.100m)
(Robotic cable)

BA-4PEXI-MR
No.TC18762 *1

VS-10FD-1-EXI
VARILIMIT Output=Switch,Current position display
4P-EP-S-6465-(Max.200m)
(Standard cable)
VS-212DN-EXI (DeviceNet対応)
VARILIMIT(2 axes) Output=Switch,Positioning

Linear type
(Submicron Absocoder)
VLS-EXI1.64SS6AB

3S-EP-5152-(Max.100m)
(Robotic cable)

BA-3SEXI-P
No.TC18136

3S-S-0140-
(Max.5m)-S045
VL-2-S1-EXI
Converter Output=Binary code

Linear type
VLS-EXI8PSM□□□

4P-EP-5152-(Max.60m)
(Robotic cable)

BA-3PEXI-P
No.TC18398

4P-S-0140-(Max.5m)

NCV-20NBNLP-EXI
Converter Output=Binary code
NCV-20NGNLP-EXI
Converter Output=Gray code
4P-EP-S-6465-(Max.120m)
(Standard cable)
VS-10BHC-D-EXI-LP
VARILIMIT Output=Switch,Current position display

Cylinder type
IRS-EXI51.2P12□□FAB□

4P-EP-5152-(Max.100m)
(Robotic cable)

BA-3PEXI-C
No.TC18589 *1

4P-S-0140-(Max.5m)

NCV-30NBNLC-EXI
Converter Output=Binary code
4P-EP-S-6465-(Max.200m)
(Standard cable)

Cylinder type
IRS-EXI51.2P18□□□AB□

4P-EP-5152-(Max.100m)
(Robotic cable)

BA-3PEXI-C
No.TC18590 *1

4P-EP-S-6465-(Max.200m)
(Standard cable)

Cylinder type
IRS-EXI51.2P30□□PAB□

4P-EP-5152-(Max.100m)
(Robotic cable)

BA-3PEXI-C
No.TC18591 *1
*1 : The certificate number of the safety barrier depends on the applicable ABSOCODER sensor model. Please select the barrier corresponding the ABSOCODER sensor(detector) used.
①Indicates the product is certified the international standard
⑤Temperature class
T4: The maximum surface temperature is up to 135℃
VŨ THỊ NGỌC TRANG
Hotline: 01678 001 207 - 0919 562 039
Email: trang@songthanhcong.com
SKP: ngoctrang.199
Cung cấp sản phẩm chính hãng giá cạnh tranh!